Due to Covid-19, please call to verify hours of operation during this time. Masks are required to be worn inside our business. Computer Repair in Lancaster, Ca.
661-941-4451
MON-FRI
: 10am - 6pm |
SAT
: 10am - 2PM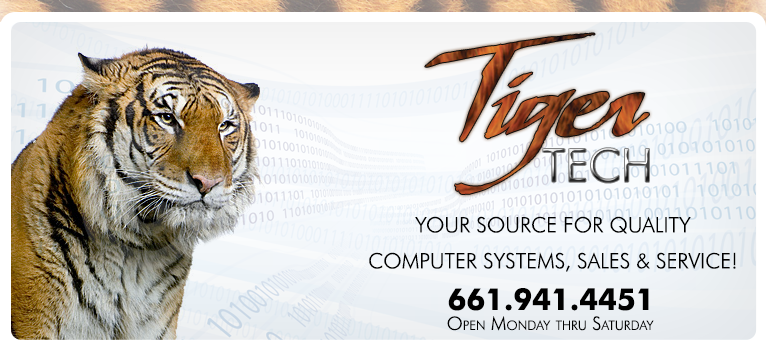 Address
42630 10th St. West
Unit #4
Lancaster, CA 93534
Map
Phone
661-941-4451
Store Hours
Monday-Friday: 10am-6:00pm
Saturday: 10:00am-2:00pm
Closed: Last Sat Of Each Month
Computer Repair in Lancaster, Ca
Tiger Tech computer store is located in Lancaster California. We are the source for quality and affordable custom built computer systems and computer repair in lancaster ca - for home and office workstations, gaming systems, and servers.

We offer laptop repair and computer repair in Lancaster Ca, Palmdale Ca, and the rest of the Antelope Valley. We sell quality computer parts, supplies, accessories and perform professional computer repair, laptop repair and system upgrades; such as power supplies, motherboards, memory, broken laptop power jacks, virus/malware removal, data recovery, and advanced system diagnostics.


On-site Business Calls to local AV companies
Own a local business in the AV and can't come to us? Contact us today to schedule a professional and friendly technician to come to your location and service business workstations, servers, and networks; as well as perform printer installs, general diagnostics, virus/malware removal and more.
© Copyright 2007-2020 Tiger Tech - All Rights Reserved.